Climbing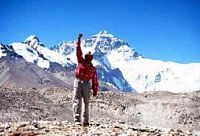 Ecuador offer an excellent introduction to high altitude mountaineering. The accessibility of the peaks, in combination with the interesting climbing, the friendly culture, and the lovely landscapes offer a multifaceted and varied climbing and travel vacation. The best season for climbing in Ecuador is November through February
Ilinizas
Iliniza Sur at 5263m and Iliniza Norte at 5126m, are located in the Eastern Cordilleras 55 km SW of Quito and are part of the Ilinizas Nature Reserve. The northern peak is the majority of the year without snow and easy to ascend with the exception of the few times when the rocks are covered with ice and therefore slippery. However, the southern peak needs good technical climbing ability because of steep ice fields and loose rocks. 
Carihuairazo
The name means 'mountain of the wind' - is a beautiful extinct volcano near Chimborazo. The two sharp peaks of this mountain are not difficult to climb and the ascent is recommended for beginners and as acclimatization. The surrounding landscape is very remote and there is no refuge, so we sleep in tents. From the camp we have beautiful views of Chimborazo, the highest mountain of Ecuador.
Chimborazo
Located 150 km (93 miles) south/southwest of Quito, Chimborazo is the highest peak in Ecuador and the point on the Earth's surface closest to the sun due to the Earth's equatorial bulge of more than 8000 metres. Climbing Chimborazo will present a challenge to even the most experienced mountaineer; it is not very technical (easy to moderate), but the long approach to reach the peak will certainly push you to your physical limits. In addition to adequate acclimatisation, excellent physical condition is required to cover the 1300 meter altitude gain between Whymper Refuge and the summit, a 9 - 12 hour climb. There are five summits on Chimborazo, Whymper 6310 m / 20,703 ft, Veintimilla 6267 m, Northern 6200 m, Polytechnic 5500 m and Nicolas Martinez 5500 m. The standard routes are the Veintimilla and Wymper routes from the refuge on the western side of the mountain.
Cotopaxi at 5897m - 19,300 ft is the highest active volcano and the second highest peak in the country, only surpassed by Chimborazo. It is located in the Eastern Cordillera, some 60 km south of Quito. This ice-covered mountain requires proper ice climbing gear, adequate acclimatization to high altitude, good physical condition and stamina. Most of the time the ascent is not technically difficult but sometimes because of adverse ice or snow and weather, conditions can become more challenging.
Cotopaxi was first climbed in 1872 from the southwest by the German geologist Wilhelm Reiss accompanied by Angel Escobar, a Colombian. Since then many successful ascents have been made and today is a popular destination for weekend mountaineers.
Tungurahua
Tungurahua, with an altitude of 5016m, is an almost perfect conical volcano, that in the past inspired much fear in the neighboring villages owing to its constant eruptions and seismic movements. The volcano is located in the north-west corner of Sangay National Park. Also can you visit the Cayambe, Antisana and Altar.