International Airport Mariscal Sucre Quito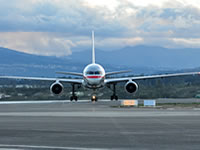 The New International Airport Mariscal Sucre, is located on Tababela, in Quito Metropolitan District, 40 kilometers from the center of the city, was inaugurated on February 20, 2013 and is located at 2400 m, has one of the longest runways in South America with 4,100 m. length, and the control tower with 41 m higher. high.
This is replacing the old airport, which bore the same name, and was within the city, and served for 53 years.
The new terminal has guardbands 300 meters on each side and 800 on the north and south end of the runway.
Infrastructure:
- Length: 1,600 hectares
- Runway: 4,100 to 2,400 feet long on the sea level, with capacity for a second runway
- Category: B
- Terminal Area: National and International with 38,000 m2
- Passenger handling capacity: Up to 6 million passengers a year.
- Passenger Terminal with 187 doors and electronic card system for opening.
- Certifications: quality, environmental and safety standards
- Lighting with international standards and an energy system of 5,000 volts. Each lamp has a range of 100 to 900 watts.
- Luggage System with 4-band fully automatic long (two times larger than today).
- CCTV which controls 200 or more cameras at different points of safety.
- The charging section has a 13,000 m2 terminal, two spread over 10,000 m2 to 3000 m2 warehouses and offices related to the loading. With 24 springs divided into four palletizers, added to this waiting areas load which can accommodate up to 24 additional trucks. It features sophisticated scanners and cold rooms.
Additional Services
- More than 900 m2 of Duty Free
- More than 20 businesses: shops, restaurants, bookstores, souvenirs
Getting there:
From the central and northern Quito, take Interoceanica Avenue will connect to the E35 and then Alpachaca connector.
From the south of the city, the way Simon Bolivar to the Interoceanica E 35, or E 35 (Pintag) to Pifo and then the connector Alpachaca.
Transport
To get to and from the airport, you can access the express transportation, serving in their 30-minute intervals, 365 days a year, 24 hours.
Public transport to the new airport will be starting from Quitumbe south, and from the Coca River, north of Quito.
Taxi service is another alternative for those who want to travel from the airport to anywhere in the city. The taxi cooperative offer its service by purchasing tickets with a rate previously designated as the destination of the passenger area.
Another alternative is private transportation services Airport-Hotel-Airport, generally contracted above, there are several companies that provide this service.
The enchanted
Galapagos Islands
are teeming with an extraordinary variety of sea creatures, including dolphins, and the enormous whale shark, the world's largest fish.