Cantuña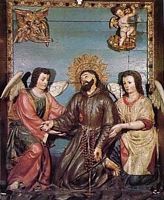 Cantuña might be termed the Sixtine Chapel of the art of Quito. It was given by the Franciscans to the Guild of painters and sculptors, who delighted in making it a unique repository of artistic jewels. The doorway opens out on to the atrium o,/ San Francisco, to the south and almost at the end.
According to a tradition mentioned by the first historian of Quito, Padre Juan de Velasco, Cantuña was the son of Hualca, who helped Rumiñahui to hide the treasures of Quito to keep them out of the reach of Spanish greed. As his master was in dire straits, Cantuña showed him the treasure, and his master, when he was about to die, named the Indian as his only inheritor. When he was asked to explain the secret of his great wealth that he was freely spending, Cantuña replied that he had made a pact with the devil.
As though to compensate for this pact, Cantuña paid all the costs of construction of the chapel that bears his name to this day.
As time passed, it came into the hands of the Guild of painters and sculptors, and the beautiful sculpture of St. Luke was installed there the finest polychrome wooden statue that Quito has produced which can still be seen on the altar. The present magnificence of the chapel owes much to Bernardo de Legarda, a member of the Guild from 1762 onwards.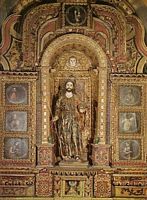 The central altar piece is his work. His genius allowed him to conceive, build and carve his works, and Legarda filled every available space from the floor to the vault itself, framing his work with pillars that supported a great arch, a niche where a crucifixion scene could be placed, which he also carved himself.
He carved the columns, the draperies, frieze, cornice, arches and purely decorative aspects with a whimsical beauty, and placed wonderful statues on shelves and pedestals. He completed the dazzling effect by surrounding the central niche with a frame of mirrors and of silver.
The pulpit is another of Legarda's masterpieces. And there is a magnificent work by Caspicara in Cantuña as well: the figure of the wounds of St. Francis, a finely proportioned work, full of devotion, with a truly admirable expression on the face of the saint, lost in the depths of pain and of understanding. No less remarkable is the figure of St. Peter of Alcantara
Travelling aboard a yacht ensures a unique experience in the
Galapagos Islands
and allows visitors to appreciate their mystery and tranquility.