Guapulo church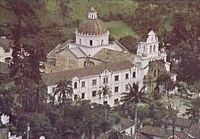 The sanctuary of Guapulo, which has been a site of pilgrimage from Quito for many centuries, is situated on a small plateau among the range of hills that separates Quito from the Tumbaco valley. It is surrounded by deep gorges, and stands beside the road taken by Pizarro's expedition that was to discover the Amazon.
The figure of Our Lady' of Guadalupe which is worshipped there was carved by Diego de Robles, and polychromed by Luis de Rivera.
It was a hermitage at first. Bishop Luis Solís built a church there in 1596, in honor of the Virgin of Guadalupe. The present building was begun fifty years later, in 1649, under Brother Antonio Rodríguez. The church is large and imposing, with a single nave in the form of a latin cross, 190 feet by 90, and covered by a great central dome.
The facade is of a simple neo-classical style, with a two-towered belfry. The nave is almost devoid of orna­ment, as a result of successive fires in the past, with the exception of a geometrical design reminiscent of mudéjar art and the frieze which runs along the walls.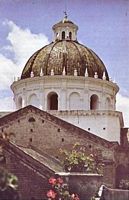 The pulpit is a indication of past splendors. It was carved by Menacho in 1716, and is justly considered to be one of the finest in South America. Once the building of the sanctuary was completed, Miguel de Santiago and the young artist Nicolás Javier de Goríbar went to Guápulo to decorate it. There is still a signed altar-piece by Goríbar in the church. Miguel de Santiago painted a series of canvasses to frame the altar pieces, as well as a series of the miracles of the Virgin.
These pictures are of exceptional importance within the Quito school of art. Santiago painted scenes of the times, with an atmosphere which is at once magical and tragic. A magical American realism, tense and dramatic, coupled with wonderful effects, makes this series of paintings the most vigorous personal expression of the work of this great painter.