La Catedral church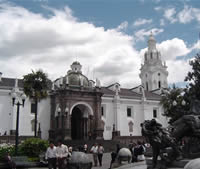 Up to the middle of the sixteenth century, the cathedral of Quito had adobe walls and a roof of thatch. Then Bishop García Díaz Arias began work on the present church, and the following bishop, who was also a great builder, Pedro Rodríguez de Aguayo, continued it. It was impossible at first to build it facing the main square because of a deep valley inmediately behind it, and so a stone atrium was built all along the north side.
The stone was brought down from Mount Pichincha, and with the enthusiastic colaboration of those who lived in the neighbourhood, work was completed between 1562 and 1565. Later on, the altar-pieces were made and the pulpit carved. The temple was dedicated in 1572. Nevertheless, what we can see today, is the result of work carried out through the seventeenth and eighteenth centuries.
At the end of the eighteenth century, the great dome was built which divides the atrium in two and from which a circular staircase leads down to the park, which is known as the shrine of Carondelet, after the President of the Audiencia who built it.
The dome was built in neo-classical style, as was choir of the cathedral -carved by Caspicara- and the main altar bears the great painting of the Virgin by Manuel Samaniego. Samaniego and Bernardo Rodríguez painted scenes from the life of Christ in the spandrels of the archways. And from 1802 to 1803, Bernardo Rodríguez worked on the four great convasses now in the side naves: the miracle of the fish, St. Peter curing a beggar, the conversion of St. Paul, and St. Paul bitten by a snake.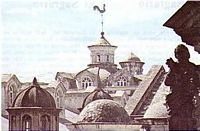 In addition to those already mentioned, the Cathedral of Quito contains a large number of valuable treasures, despite its modest appearance: the sculptured group known as "The Holy Shroud", one of the most harmonious and moving of all Caspicara's works, the Virgin by Legarda, the group of the Denial of St. Peter, attributed to Padre Carlos, the legendary artist who carved the figure of St. Luke in Cantuña, in 1668, Miguel de Santiago painting of the death of the Virgin, on the wall behind the choir, and the series of portraits of past bishops on the walls of the chapter hall.
One can't help but be totally captivated by the
Galapagos Islands
, with its assemblage of engaging wildlife and fascinating landscapes.