La Compania church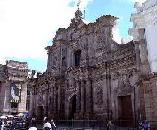 The Jesuit began work on their church in Quito in 1605. The co-ad-jutor Marcos Guerra arrived in the city about 1613, and the had been a brillant architect in Naples, before joining the Order. He corrected mistakes what had so far been done, and gave the final overall shape to the construction.
When died in 1668, the church and neighboring buildings, including the three cloisters, were it all intents and purposes finished. Work began on the facade in 1772, and was not finished until 1765, on the eve of the expulsion of the Jesuits from the Spanish dominions. The facade is a marvel of the American barroque and plateresque styles. Six columns of Salomon flank the main entrance, and this was the first time that these pillars had been incorporated into American architectural styling.
Corinthian pillars stand by the side doors. Below them is a stylebato, with carved Renaissance panels. suns and leaves decorate the frieze, and the cornice appears to be supported by acanthus leaves. The cornice takes on the form of an arch over the main door, and contains a niche with a statue of the Virgin, surrounded by cherubim and angels. the second part, finely ornamented in the plateresque style, is formed by two columns, leaving space for enormous windows un the center and the votive inscription to Loyola.
The admirable harmony of columns and frieze, of sculptures and moldings, panels and symbolic panoply, so richly carven and at the same time so exact rises to a semicircular top whit the sign of the eucharist. On entering the temple one is dazzled bye the marvelous harmony of baroque richness and balance, all in gold.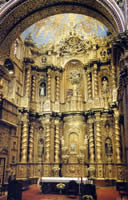 Beautiful decoration abounds, covering every inch of the altar-pieces, the chapels, the columns and the dome of the transept, the choir and the tribunes. The altar-piece of the main altar, by Legarda, restates the pillars of Solomon as the main theme of composition.
We have already seen them on the facade, and here they form a dazzling display as they curve into an arch and are crowned with a diadem held by angels. There are four niches, which house polychromed statues of the founders of the four great religious orders. Among them St. Francis and St. Ignatius Loyola, in the unmistakable style of Legarda.
On either side of the presbytery, and on the side walls of the transept, next to it, are admirable carvings. The pillars of the central nave are decorated all over with one of most important series of colonial painting from Quito: the series of the prophets, attributed to Goribar. The colors of Quito shine through the landscape and background behind the noble representation of each character, with the careful detailed treatment of tunic and mantle.
By far the best way to see the
Galapagos Islands
is on a small cruise ship or on a tourist oriented yacht