La Merced church
One enters the Basilica of La Merced through the square of the same name. And from this side one has the best view of the church: the great white wall above the stone atrium, the solid quadrangular tower with a hint of arabic styling in the upper part, the central dome, with all its grace and the four lesser domes which go together to make a highly unusual and extremely beautiful combination.
The entrance door has a peculiar stone frame: pillars with a series of niches carved in them, carved bearded heads and the sun and the moon above the lintel, those two heavenly, bodies so beloved of the Indians who quarried the stone. The original church on this site was largely destroyed in the earthquake of 1660, and the foundations of the present building were not laid until 1701.
The tower was completed in 1736, and the church was dedicated in 1747. Bernardo de Legarda was commissioned to do the main altar­piece, in 1751. The tribunes of the presbytery and the four evangelists, on the arches of the dome are by, Maestro Uriaco. The central niche of the high altar is occupied by the Virgin of Mercy, to whom Sucre dedicated his victorious sword after the Battle of Pichincha. The statue is life-size, and of painted stone. It was carried in procession during the eruptions of Pichincha volcano.
There are paintings Jrom various times in the church by Samaniego, the fourteen stations of the Via Crucis, by Pinto, and a number of paintings by Victor Mideros. The main cloister of La Merced church is one of the most attractive in Quito, with pillars of stone and dazzling white archways, as well as a wide stone paxtio that has a magnificent carved stone fountain in the center, with a figure of Neptune. There are corner-pieces painted in the corridors of the cloister. In the upper cloister there is a series of paintings depicting the life of St. Francis Xavier, believed to have been painted by the great Jesuit master, Brother Hernando de la Cruz.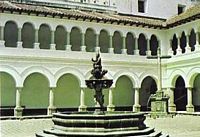 From the cloister, one can go into the library, which is one of the most beautiful in the New World, with its two floors and walls covered with ancient books bound in parchment or with their spines covered in gold. The Museum is to be found in the second cloister, together with the cell of the prior, decorated, apparently, by Manuel Samaniego. There are also paintings by Miguel de Santiago, Nicolás Gorábar, Bernardo Rodríguez and Manuel Samaniego, as well as a large number of curious jewels.
By far the best way to see the
Galapagos Islands
is on a small cruise ship or on a tourist oriented yacht.