Ecuador General Information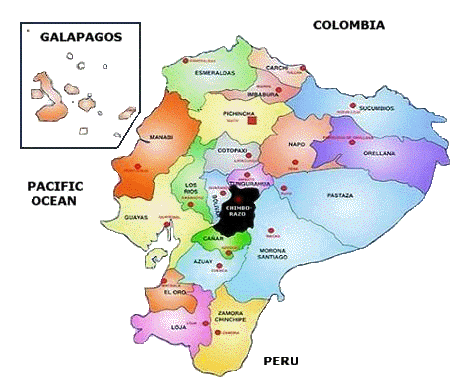 Population : 13,710,234
Currency : United States Dolar
Capital City : Quito
Language : Spanish and Quichua
Location : Western South America, bordering the Pacific Ocean at the Equator, between Colombia and Peru
Ecuador is geographically divided into four regions - the Amazon, the Highlands, the Coast, and the Galapagos Islands.
The Coast, comprises the low-lying land in the western part of the country, including the Pacific coastline.
The Sierra, or the highlands, is the high-altitude belt running north-south along the center of the country, its mountainous terrain dominated by the Andes mountain range.
The Amazon, also known as El Oriente, comprises the Amazon rainforest areas in the eastern part of the country, accounting for just under half of the country's total surface area, though populated by less than 5% of the population.
The Archipelago of Colon (commonly known as the Galapagos Islands) is made up of 13 main islands, 17 islets, and dozens of ancient rock formations. The volcanically formed islands, encompassing an area of 8,000 kilometers in all, lies roughly 1,000 kilometers off the coast of the Ecuadorian mainland. Apart from its beautiful beaches and unique and varied ecosystems, the Galapagos Islands are home to towering active volcanoes that reach altitudes up to 1,600 meters.
Biological reserves are located in each of these different regions, many in extremely threatened areas, where the land in the reserve is among the last remnant of an area high in biodiversity.