Hotel Holiday Inn Express

<- Previous Hotel / Next Hotel ->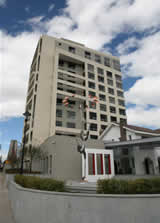 Holiday Inn Express Quito Hotel is located at Francisco de Orellana Avenue, one of de most important in the capital city of Ecuador.
It is placed in the financial and commercial area, surrounded by state of the art shopping, cultural and tourism centers.
Its location offers immediate access to the trendy area of the city with local bars and restaurants and the wonderful Old City of Quito, Cultural World Heritage Site. Its modern architecture is esthetically and functionally integrated to a house built in the 50's, considered to be City Heritage.
In an environment of great hospitality and excellent service, Holiday Inn Express Quito Hotel welcomes you to Ecuador.
Accommodation
Filatelia Apart-Hotel offers all types of accommodation: suites, mini-apartments, double and triple rooms with kitchen, living-dining room, one or two bedrooms, one or two bathrooms, television, telephone and are fully furnished and equipped.
Clients will receive the exquisite attention of its professional staff who are committed to providing quality personal service.
Services
136 rooms, 1 handicap and 4 suites
12 floors
HD-LCD de 32" TV
TV Cable
Minibar
In room safe
Coffee Maker
Iron and ironing board
Hair dryer
Buffet Breakfast
Banquet rooms with state of the art technology for video conference
Gym
Massage room
Ice machine
Laundry Service
201 parking spots, 24 hours
Airport Shuttle
Associated Restaurants - Restaurant Delivery
City Heritage House
Express Market (bar and lounge)
Business Center
Meeting rooms
Construction Characteristics
Constructive system with anti seismic technology
Thermo acoustic windows, sound proof
Fire hazard system with American standards
Stainless steel pipe and water system
Water treatment plant with ISO standards
Wireless high speed Internet, 24 hour service
Electromagnetic locks
Air conditioning in all areas
Room rates
* Taxes and services are not included.
Rates are subject to change