Hotel Casa Quito

<- Previous Hotel / Next Hotel ->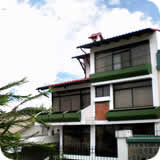 Undoubtedly one of the best options for your next stay in Quito, Casa Quito is tradition for accommodation in the capital of Ecuador. Located in the most secure area of "La Floresta", home to other major hotels like the Swissotel and Radisson Royal Hotel. Hotel Casa Quito provide luxury and comfort at low prices. The Hotel has been recognized by Travel Magazine as "without doubt the best place for a quiet stay in the downtown area of the capital", this small jewel of the city glows with its own light.
Casa Quito is strategically located within walking distance of the Colonial Center and the financial area of Quito. The hotel offers free transfer in service for its guests, which not only provides security but also save time and money along the way.
Accommodation
The rooms are spacious, with carpeted floors, wooden high ceilings and views of the valleys of Quito and the beautiful surrounding mountains, headquarters of Pichincha volcano. Large rooms can be adapted to accommodate up to 4 people.
A small and cozy hotel managed by the owners guarantees a safe, comfortable and successful visit that will not go beyond your budget.
Casa Quito Hotel offers you wireless Internet, satellite television, LCD screens in each room, safety boxes with electronic key, rest rooms, a cozy dining room, several fireplaces and a kitchen in which you will always be welcome. Also you will find computers connected to the Internet with high-speed connection to maintain contact with your family. At the end of the day enjoy a movie in the cinema of the hotel.
If you are looking for a safe, comfortable and convenient stay at low prices, the Hotel Casa Quito is he best choice. It is important to note that due to the popularity of the hotel in some seasons it is difficult to find availability.
Services
Free breakfast
Free wireless internet access
Free Luggage storage
Parking
Laundry service
24-hours Reception
24-hours Security
Tours
Travel agency
Rest rooms
Cable TV
Room Rates
Rates are subject to change
CONTACT WITH IN-QUITO.COM
ECUADOR
(593) 2 255 3953
(593) 2 255 9654
(593) 9 9820 3577
(593) 2 255 0532
E-mail
reservaciones@in-quito.com