Filatelia Apart-Hotel

<- Previous Hotel / Next Hotel ->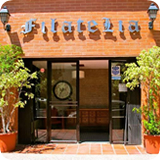 Hotel Filatelia is located at the Mariscal district, sharing the block with the Hilton Hotel & the famous El Ejido park, Only 1 km from Quito's historic centre and financial zone, Apartamentos Filatelia offers rooms and apartments with free WiFi and continental breakfast.
The property is 500 m from Casa de la Cultura Ecuatoriana Benjamín Carrión and 1 km from the Pontifical Catholic University of Ecuador, and located near public transport services and many gastronomic options.
A 24-hour front-desk is available to provide tour information to guests wishing to explore the area.
Free parking is provided, and airport shuttles and car rentals can be arranged for an extra fee. Apartamentos Filatelia is 35 km from Mariscal Sucre International Airport.
Property Amenities
24-hour front desk
Restaurant
Shuttle (Airport - Hotel - Airport) (supplementary)
Free breakfast
Free WiFi
Free Parking (limited spaces)
Tours / ticket assistance
Multilingual Staff
Elevator
Cribs/ infant beds
Concierge
Safe/ Deposit Box (supplementary)
Property Policies
Check in: at 12h30pm
Minimun check in age: 18
Check out: 11h30am
Payment Types
Cash / Debit and Credit Card (Visa - Mastercard - Diners) / Paypall
Room rates in cash
* Taxes and services are included.
Rates are subject to change
CONTACT WITH IN-QUITO.COM
ECUADOR
(593) 2 255 3953
(593) 2 255 9654
(593) 9 9820 3577
(593) 2 255 0532
E-mail
hotelfilatelia@gmail.com