Filatelia Apart-Hotel

<- Previous Hotel / Next Hotel ->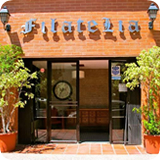 Filatelia Apart-Hotel is located in the main touristic area of Quito, La Mariscal, close to shopping centers, banks, restaurants, handicraft markets, at few minutes of the Quito's Historic Center.
The Apart-Hotel enjoys excellent communication due to its privileged location
Accommodation
Filatelia Apart-Hotel offers all types of accommodation: suites, mini-apartments, double and triple rooms with kitchen, living-dining room, one or two bedrooms, one or two bathrooms, television, telephone and are fully furnished and equipped.
Clients will receive the exquisite attention of its professional staff who are committed to providing quality personal service.
Services
Telephone
Mini-Refrigerator
Cable TV
Free wireless Internet
Full Kitchen
Dining Room Table
Parking
Reception 24-Hours
Transfer In- Out
City tours
Travel agency
Room rates in cash
10% discount on bookings from 18 to 24 February 2015
* Taxes and services are included.
Rates are subject to change
CONTACT WITH IN-QUITO.COM
ECUADOR
(593) 2 255 3953
(593) 2 255 9654
(593) 9 9820 3577
(593) 2 255 0532
E-mail
hotelfilatelia@gmail.com