Quito Mayor
Dr. Augusto Barrera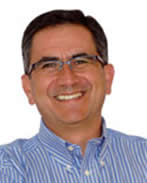 Augusto Barrera, the actually Mayor of Quito, is a man who has dedicated his life to social organization. He is the first of four brothers  from a very close family. Born in Quito, his childhood and adolescence lived near the Hacienda Jijón and Caamaño, The Circassian.
His youth was spent in the neighborhood of nuns, where his house became home to medical students. Then as a country doctor endless visited remote indigenous communities in Ibarra, where her commitment to the social.
He graduated with honors from the College Benalcazar.
Nina Andrea is his wife, and has three children, Paul, Joaquin and Ignacio.
Augusto Barrera is a good athlete, likes to run his last race was the Half Marathon in the Middle of the World. Also practice swimming.
Vocational
Specialist on local development, planning and political science, doctor of medicine. Formed in municipal schools in Quito, noted from the outset with honors, as in his college career, both in national and international centers.
• Master in Political Science in Latin America. He received the distinction Summa Cum Laude, Universidad Internacional de Andalucía. See Iberoamericana La Rabida.
• Expert in Local Development. International Training Centre of the OIT. DelNet Program. Training Programme for Technical Assistance and Information Network Work Turin, Italy.
• Specializing in Social Sciences with a minor in Ecuadorian Studies.
• Doctor in Medicine and Surgery, Central University of Ecuador, Quito.
Positions
• Councilmember Metropolitan District of Quito, President of the Health Committee, Vice-Chairman of the Committees on Education and Historic Areas of the Municipality of the Metropolitan District.
• Secretary of Planning and Social Dialogue of the Office of the President
• Member of the Cabinet of Ministers of Ecuador
• Member of the National Commission on Decentralization and National Competitiveness Council of Ecuador
• Academic Coordinator of the Research Centre CITY
• Project Manager interface between urban and rural areas in Ecuador to integrated territorial development. Centro de Investigaciones CIUDAD - IREC, Ecole Polytechnique Federale de Lausanne.
• Consultant of the Municipality of Cuenca for System Design and Implementation of Citizen Participation.
• Consultant Management Program-GTZ Watershed PROMACH-Tungurahua Provincial Council.
• Consultant to the Urban Management Programme, UMP-LAC. Quito Urban Consultation: Design of Participatory Management System
• Guest speaker at seminars and national and international conferences
• Lecturer at postgraduate courses in various national universities