Alameda Park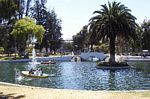 Location: Center of the District, within a triangle included by the avenue Gran Colombia and the streets Sodiro and Guayaquil.
The Alameda is the oldest park of Quito, known before by the Indians like "chuquihuada" (in quichua, point of the spear); it is located in the parish San Blas, in downtown, occupies a surface of six hectares closed by avenues 10 de Agosto, Gran Colombia and Luis Felipe Borja street.
The Alameda is a site that keeps many memories.
There it worked, until beginnings of the century last, the School of Beautiful Arts of Quito, in the middle of an almost mystical atmosphere that marked the art of the time and is the Astronomical observatory, constructed in the 1 864 during the presidency of Gabriel Garcia Moreno. It was the best equipped of South America, and still uses the observation instruments of that then.
Now, when in its environs the city is based, the visitors go to the park to rest in the place, or use small boats to sail in the small lake. In the park, still, photographers can be found who portray the visitors, using cameras of old technology.
Historical facts that they happened in the Alameda park:
In the environs of the park, in 1 546, the troops of the conquering insurrectionist faced Spanish Gonzalo Pizarro those of the virrey of Peru, Blasco Núñez de Vela during the "Battle of Iñaquito". In this site they rested, the 25 of May of 1 822, the patriotic troops of cavalry who fought in Battle of the Pichincha, struggle that sealed to the freedom of Quito and its environs.
At night of the 27 of March of 1 906, president Eloy Alfaro attended, in the Alameda, to a political act organized by the group of liberal known like the Fonda, to endorse the respect to the natives of the forest and to support the restoration of science.
In the south access of the park he was inaugurated, the 24 of 1935 July, the monument to the Liberator of America, Simón Bolivar; act that constituted a true political event, social and cultural of the country.
Environmental resources
Here it can find trees of important dimensions, that they have resisted to the time and the invasion of the cement. Botanical investigators registered an important variety of native and foreign species like the acacia, palmera, cedro, fresno, pumamaqui, yaloman, arrayan, eucalipto and magnolia.
Galapagos Islands
for a spectacular adventure into the geology of the planet, the origins of life, and nature.