La Carolina Park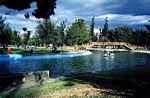 Location: The park is delimited by the avenues Shyris, Eloy Alfaro, Amazonas and Naciones Unidas.
With 67 hectares of land, this one is one of the greater urban parks of the District, of the country and of America of the South. During the week, it welcomes in habitual sportsmen who enjoy the calm atmosphere that offers by the mornings the place. Whereas the week ends, receive approximately, to 50 000 people. Here, you can retozar in the gardens or play soccer, practice basketball, slide, exercise your body making aerobics, mount to horse or simply to walk next to your family or friends.
This is a small example of all the infrastructure that has the field:
Fields of soccer, basketball, volley ball and tennis, athletic passage, circuit of bici cross, track for skating and acrobatics in bicycle, perimeter of infantile games, center of exhibitions, five lots to park vehicles, dining rooms and centers of socialization.
History: Located in the sector of Iñaquito, the park was born like product of the municipal expropriation from 1 939 to the property "the Carolina" that belonged to Mrs. Maria Augusta Barba de Larrea.
The modern design was made by the Direction of Planning of the Municipality in 1 976 and is being remodelled again at the present time.
The Pope Juan Pablo II carried out in this park a multitudinal mass during its visit to Ecuador in 1985. In order to commemorate this event, a giant cross in the site was constructed where the ceremony took place.
Other Sites of Attraction in the Carolina park:
Park Nautical
The lagoon nailed in the Southeastern sector of the land is one of the main attractions that the Carolina has. You can enjoy giving a stroll in boat pedal or a water bicycle.
The Botanical Garden of Quito
In this oasis, you will be able to appreciate and to know the amplest variety orquídeas and other species of flora that live in spurs of ecuadorian Andes In the green areas that they surround to the Orquideario, a representation is had the different Andean environmental scenes.
Airplane of the Fantasy
If you want to enjoy his children of the infantile theater and the puppets, visit this airplane. To the interior of an old apparatus it will find new proposals for the diversion of the children.
Ecuadorian museum of Natural Sciences
This area was created to give to know and to include the natural wealth that is distributed in all Ecuador. It has several botanical, paleontological samples and mineral
of the country.
The
Galapagos Islands
are undoubtedly the ultimate destination for anyone wishing to come face-to-face with some of the world's most astonishing wildlife.