Metropolitano Park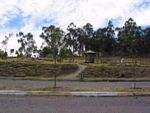 The park is located to 2 890 meters on the level of the sea in the north of the District, surrounded by the streets Guanguiltagua, Arroyo Delgado and Analuisa, registers an average temperature of 11 degrees Celsius. With an extension of 557 hectares, it is the main lung of the Quito city.
Surrounded by trees and gigantic works of art, the visitors can enjoy the nature breathing pure air to few meters of the city.
Tourism in the Metropolitano park: In the broken Ashintaco, located in the northeastern sector of the park, you can observe more than ten species of colibries and seventy species of birds that nest in the place, some of which are in extinction danger.
The park offers a rock road for the lovers of the mountain cycling.
Each weekend arrives at the Metropolitan park, approximately, between 20 and 30 thousand people. You arrange, in addition, of the following services:
Tours, service of cleaning. infantile areas, sites to make camping, fields of soccer, volleyball and basketball, track of skating.
Of all the world's best dive destinations, the
Galapagos Islands
are so unique it astounds even the most seasoned diver.