Pichincha Ecuador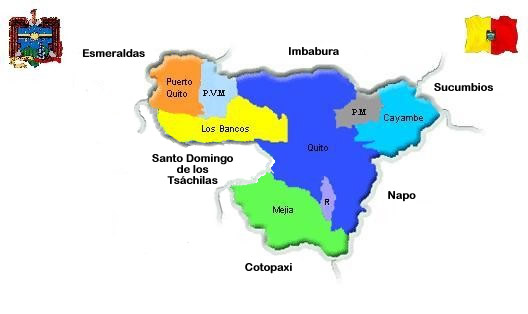 Pedro Vicente Maldonado

It has many places where the ecological tourism can be developed, reason why the private company has already developed the project of Complex ecological tourism denominated "Tourist Arashá" the same one that will serve as propellent of this type of activities.
It has many beautiful places like El Salto del Tigre cascade, Silanche river, Talata cascade.
Pedro Moncayo

Attractive the tourist ones numerous and are varied: the landscape, the archaeological wealth and the popular traditions are multiple with beautiful sites like the town of Tabacundo and its church, lagoons of Mojanda, archaeological church of Malchingui, piramides, museum of Cochasqui site.
Puerto Quito

It has zones apt for the tourism and the bath to borders of the Caoní River is developed, we also found Blue cascade, White river, steam stone, ecological village Salamander, cascade and Macallares river, secondary forest.
Quito

It is the capital of Ecuador Republic and one of the most beautiful and prosperous cities of America; Cultural Heritage of the Humanity "by the artistic, natural and historical treasures was declared" that it has.
There are many heritage churches in Quito's historic district. Among them includes the Cathedral of Quito, the Church of the Society of Jesus, the Church and Convent of St Francis, the Church and Convent of St Dominic, the Church and Convent of La Merced and the Basilica del Voto Nacional.