Swissotel Quito

<- Previous Hotel / Next Hotel ->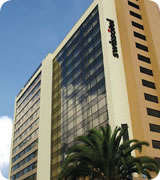 Swissotel Quito is located in the beautiful residential and commercial area of La Floresta.
Situated in the heart of a beautiful and modern residential and business area, Swissotel is the city's only deluxe property under Swiss management. Modern structure of 13 floors with panoramic elevators.
Rooms and suites with all the comfort of a hotel of high international standards. Swissotel Quito's first class service and accommodations, along with our European elegance, provide the perfect setting for distinguished tastes.
Dining:
Le Gourmet, French cuisine. Trattoria La Pergola poolside restaurant for Italian cuisine; Tanoshii the first Japanese restaurant in town; Café Quito for light fare and Ecuadorian dishes. Bar Le Point, Oro Pollo/Oro Pizza and the Gourmet Deli culinary delights await you.
Room Facilities
5 restaurants
24 hours room service
20 meeting rooms
Amrita Spa with more than 80 treatments available
Indoor and outdoor swimming pool
Fitness Centre
Squash, racquet and tennis courts
Steam bath and Jacuzzi
Swiss business centre
Concierge
Room rates
* Taxes and services are not included.
Rates are subject to change
CONTACT WITH IN-QUITO.COM
ECUADOR

(593) 2 255 0532
(593) 9 9820 3577
(593) 2 255 3953
(593) 2 255 9654
E-mail
central@ecostravel.com