Quito carlift, Teleferico in Quito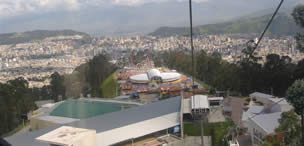 The Quito Teleferico (Teleferiqo, gondola) takes off at 9,680 ft and reaches 13,284 ft, the Teleferico is located on Cruz Loma, one of the hills on the slopes of the active Pichincha volcano (15,000 ft) that lies West of the city.
The ride lasts only 10 minutes but takes you to an altitude of 4050 m (13,300 ft). At the top, there is a grandstand-esque lookout point complete with coffee, snacks, horse rental and oxygen for the faint of breath. Walk to the second floor of the grandstand and head outside; there are some excellent hiking trails leading to more views of Quito and of the Pichincha Volcanoes, which are snowcapped time to time throughout the year. At the base of the mountain, there is popular Vulcano Park, an amusement park, and a slew of classy restaurants, cafes and gift shops.