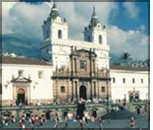 Kleintours is a young, dynamic company founded in 1983 by María Augusta Klein. Its main office is situated in Quito with branches in Guayaquil, Cuenca and Galapagos. During its 16 years of operation Kleintours has been able to establish its position in the tourism market and is now one of the leading incoming agents and tour operators of Ecuador.
With a modern policy and the support of a knowledgeable, young, and motivated team it has reached at the present time the highest growth rates in all areas of tourism in Ecuador.
Kleintours works with Ecuador's finest hotels, restaurants and providers, covering any eventuality with the immediate assistance of its branch offices in the main cities of the country.
Address:
Eloy Alfaro N 34-151 and Catalina Aldaz
Quito, Ecuador