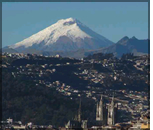 Metropolitan Touring was founded in 1953 and is Ecuador's leading Travel Corporation and DMC with its own ground and Galapagos Islands expedition operation. Expanding over 50 years, the history of Metropolitan Touring is full of passion, inspiration, courage and success.
Its staff is highly qualified. Each of its programs feature multilingual guides who share their expert knowledge of the land with genuine Ecuadorian hospitality. The Metropolitan Touring's offices, ships and buses are equipped with sophisticated communications systems that interconnect all operations throughout the country, day and night.
Metropolitan Touring offers a fulfilling selection of exciting and innovative experiences in Ecuador's mega diverse four natural regions: Pacific Coast, Andean highlands, Amazon Rainforest and The Galapagos Islands.
Address:
Republica de El Salvador N36-84 and NN.UU Ave.
Quito, Ecuador