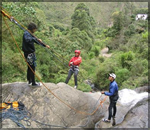 RainForestur is a travel agency specializing since 1992 in Rafting Trips, Jungle Trips, Canyoning, and Mountain Expeditions, Indian markets and tours from 1 to 21 days, including Galapagos.
The main office is located in of Baños, Ecuador in the province of Tungurahua. A secondary branch office is in Quito , the capital of the country.
Rainforestur is recommended by several international guidebooks. It offers you holidays full of adventure into the fascinating Nature of Ecuador.
Address:
Amazonas No. 420 and Robles St.
Quito, Ecuador