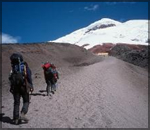 Surtrek is an travel specialist for adventure tours and ecotourism in Ecuador, the Galapagos Islands and South America travel.
For individual travellers and small groups, it offers customized First Class tours and Luxury tours around Ecuador, the Galapagos Islands as well as high standard trekking tours, mountain climbing tours, Amazon jungle expeditions, mountain-biking tours, horseback riding, river-rafting tours, bird watching tours, incentive travel, schamanic rituals, honey moon trips, Hotel accommodation.
It also organise Galapagos Cruise Ships, scuba diving tours, Galapagos trekking tours and travel to the remote areas in South America.
Surtrek works with the best Hotels, Haciendas & Lodges therefore your stay in Ecuador will be a warm, comfortable and cosy experience.
Address:
Ave. Amazonas 897 and Wilson
Quito, Ecuador