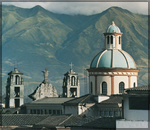 Tropical Adventures offers tours to all of the destinations in Ecuador. It offers different quality of Galapagos Trips.
Tropical Adventures offers to you the opportunity to visit the Ecuadorian Rain Forest with the most important biodiversity in the world. Places like Cuyabeno, Yarina, Yuturi Reserves and Bataburo / La Casa del Suizo are home of different species of plants, animals, birds and locals communities, each one of them, with its unique identity.
Tropical Adventures is also specialized in set trips to the coast. One of the nicest places in this area is the Machalilla National park and its sorrounders.
Tropical Adventures offers the opportunity to visit some places of the Ecuadorian Saw, which possesses very attractive landscapes, besides that you will be able to admire cities with an incredible colonial architecture.
Address:
Roca 668 and Amazonas
Quito, Ecuador