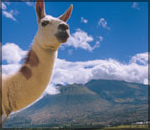 Via Natura is a major tour operator, cruise company and travel agency in Ecuador and the Galapagos Islands since 1993.
The company has a full fledge mainland operation and operates directly on the islands with the Monserrat Yacht. In addition it commercializes the Catamaran Millennium under a representation contract.
Via Natura is committed with the preservation of Ecuador's rich ecosystem and with the development of its people, hence, its participation in non-profit organizations and foundations.
Address:
Republica del Salvador N34-10 and Shyris Ave.
Quito, Ecuador