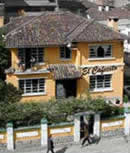 El Cafecito is located in La Mariscal, the main centre for shops, language schools, dance clubs, banks, embassies, and internet cafes. A 30 min. walk or a short trole ride takes you to the old city, where you could enjoy a stroll through colonial streets with its many museums, churches and spanish style plazas.
The café, a popular spot for both, locals and foreigners of all levels. Offering wide variety of breakfasts, vegetarian meals, excellent homemade desserts, selection of coffee/tea drinks and "happy hour" from 6pm to 7pm. In the daytime enjoy a nice break in our garden and at night come in and have a seat for a light meal by the fire in a candlelit atmosphere.
El Cafecito hostel offers shared rooms with 4 and 5 beds 1 single room, 1 matrimonial (queen bed) room. Beside offers 24 hours reception, free luggage storage, international book exchange, laundry services, tourist information, 10% discount for all hostel guests in café.