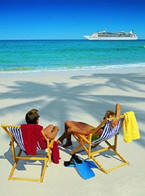 Alta: Alta is one of the most beautiful yachts in the Galapagos; she is ideal for travelers who seek exclusivity and uniqueness. Alta is a three-masted staysail schooner, a very stylish yacht that has that special charm of a sailing ship. She is 46 m / 140 ft long and capable of 10 knots under power and 14 knots under sail. Alta is fitted with 8 tastefully decorated cabins that accommodate up to 16 passengers. All cabins have ample hanging locker and drawer space. Each cabin has their private facilities with fresh, hot and cold water showers.
Beagle: This yacht offers comfortable and spacious accommodation, maintenance and safety equipment that meet the highest standards, ample open and shaded deck space, delicious Ecuadorian and international cuisine served in the salon or on deck, personal service on board by a well trained crew and guide. The vessel accommodates 12 persons in 6 air-conditioned double cabins with en suite hot shower and toilet. Bedding configuration includes a lower double and upper single for independent traveling companions and families with small children.
Eclipse: The Eclipse is one of the latest additions to the Galapagos cruises. The vision for this yacht is to introduce a new level of comfort and elegance to Galapagos cruising and to offer an excellent option to buyers of incentive travel programs and conference planners. A fully air-conditioned and extremely roomy and comfortable 48-passenger ship, Eclipse's large cabins have either a double or twin bed arrangement with ocean view windows on Boat Deck and ocean view portholes on Main Deck. Each cabin has a large closet, writing table, individual climate control and spacious bathroom with hairdryer.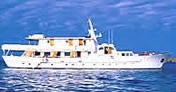 Coral I: The Coral I is a spacious motor yacht designed with teakwood and modern decorum to give a unique Galapagos tour an exclusive touch. With a capacity of 20 and 22 passengers, the Coral I are custom designed for comfort in an intimate environment. The ship feature air-conditioning, all outside cabins, relaxing lounge areas and dining rooms, plus expansive observation decks.
Coral II: The Coral II, like her twin ship, provides privacy and is a lovely option to make yours a worthwhile trip. Bronze and teak, spacious observation sun decks, large picture windows, comfortable lounges and a superb service, add that touch to the already magical adventure in one of the world's most famous natural reserves. The Coral II is a fully equipped and spacious motor yacht designed with teakwood and modern decorum. The yacht offers two spacious sun-decks, outdoor dining and inside buffet areas, two separate social areas with a well-equipped bar, ice makers, TV, VCR, stereo, library etc. Among other services, snorkeling and complete diving gear are available, as wel as a diving platform.
Beluga: The luxurious is a deluxe, one-hundred ten foot, steel-hulled motor vessel. This classic yacht is fully air-conditioned and accommodates sixteen passengers in double staterooms, each with private baths and showers. Facilities include a lounge with TV/VHS, two separate dining rooms that accommodate eight diners in each, a sun deck and a covered deck. The Beluga is also fully equipped for diving trips.