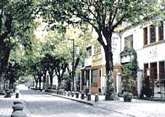 We are located in the most beautiful and quiet street in the Mariscal district, away from the noise of the commercial areas. We are located in the Mariscal district in Quito, an interesting mixture of homes, local businesses, shops, restaurants, clubs, hotels, art galleries, touring agencies, churches, and museums. We are just a few blocks from Amazonas Avenue, one of the best-known avenues in Quito.
We are close to everything that you need or want in Quito: airport 10 - 15 minutes away, supermarkets 2 minutes away, open air market 6 minutes away, bookstores 2 minutes away, tour agencies 2 minutes away, trolley 4 minutes away, art stores 2 minutes away, art galleries 1 - 30 minutes away, 5 - 25 minutes away, museums 5 minutes away, public parks 5 minutes away, medical clinics 2 - 20 minutes away, hospital, 5 - 15 minutes away, movie theaters 3 - 30 minutes away, cultural productions 1 - 30 minutes away, restaurants 4 minutes away the south American explorer's club, Quito historic district 12 minutes away
Indoors Services
Patios, Terraces, & Rooftop, cable TV. with English-language channels, hot water 24 h, conference rooms, laundry Services & Kitchen Facilities, locked secure parking for vehicles, la Molienda de Jose - Cybercafes, We serve Menus, Salads and Sandwiches We also have long-term storage facilities and a Safe for your valuables, even when you are away on tour; Laundry services (we clean and iron clothes on the premises) and, if you so desire, we can greet you personally at the Quito airport when you arrive.
Rates:
Simple
$19.04
Doble
$29.12
Triple
$33.60

Rates are subject to change.
Address:
Juan Rodríguez E8-49 and 6 de Diciembre
Quito, Ecuador