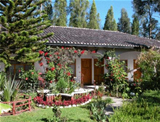 The Sommergarten resort was built in 1990 and it is to 20 km from the capital, Quito, in fertile " Valley de los Chillos " in Sangolqui's historical city.
Located to 2.450 m of height, you will find there an environment of peace and tranquility to enjoy an ecological place a climate of eternal spring during the whole year.
The Sommergarten resort is for its nearness to important tourist places a strategic site to realise different activities of recreation and of tourism.
Facilities:
The resort has 22 simple, double, triple and quadruple rooms, 1 Junior-Suite (kitchen, room with chimney, matrimonial bed). All the rooms with private bath and warm water, phone and TV.