La Basilica church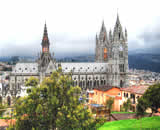 The Basilica del Voto Nacional, wich took over hundred years to build (the first stone was laid on July 10th, 1892), is one of the last displays of ideology and partisanship by Catholic church, following the request during García Moreno's presidency that Ecuador be dedicated to the Corazón de Jesús.
Father Julio María Matovelle pushed for the construction, for which swathes of land were purchased on San Juan Hill, and today it dominates the city and the historic centre. The project was contracted out in France to architect Emilio Tarlier, who, inspired by the cathedral in Bourges, drew up the plans between 1890 and 1896.
From practically any corner of the city the largest gothic basilica in Ecuador and all Latin America is visible. It is one of the most beautiful churches in the city, adorned with gargoyles inspired by the country's fauna such as armadillos, iguanas, Galápagos tortoises, etc. Because of their quality, the murals in the interior, as well as the stained glassed windows made in Barcelona, deserve a close look.
If you are not afraid of heights and would like to take delight in one of the best panoramas of both old and new Quito, climb the stairs of the main tower. Each section offers picture-porstcard views of a city on continual growth. And from a height of 117 metres.